"Die Fähigkeit, glücklich zu leben, kommt aus einer Kraft, die der Seele innewohnt."

Marc Aurel
Circle of Life
Women-ritual-journey to and with the elements
An intensive inner and outer journey for women who are working on the "big change" as well as on personal and collective healing and who want to get in touch with themselves, their original being and with Mother Earth.
In a small group we devote ourselves mindfully and deeply to the elements from which all living things originate and consist: the earth, the air, the water, the fire and the ether (also: primordial substance, world soul, universe, Olympus, beyond).
Each day is dedicated to one element and each day takes us to a very special place of power that we have personally chosen for you. The island of Aphrodite is not only known for its extraordinary light – I also find its basic energy to be very high vibrational. It also supports the engagement in deep inner processes, through which I accompany you with all my experience.
My wish is that at the end of this journey you can say: "I feel the connectedness with life. And I feel the freedom that comes through it. I am water! I am earth! I am air! I am fire! I am ether! I am I!" …
Do you feel the longing of your soul?
It's about time!
Life needs more sensual and spiritual being again – the gentle, mindful interaction with each other, with the whole everyday life, the work, the relationships …
We take the time!
And the space. And the courage – and go during this vacation week in intense connection with each other, with Mother Earth and with the elements of life.
We heal the time!
And the wounds that have been created – in us and in Mother Earth.
Do you hear the call of your heart?
Follow it if you …
… want to do something for yourself and for Mother Earth,
… want to feel the connection with yourself, your roots, with Mother Earth, with life,
… want to get back to the essential and away from the "daily madness",
… want to feel yourself and your original power more again,
… are ready to share intensive community with others.
You want to follow this call?
… then welcome to our circle, be a carrier of light! You only need a little experience with meditation, mindfulness, intuition, rituals and yourself.
Period: April 11-18, 2022.
Of course, you can also start your vacation earlier or extend it as you wish.
This is the preliminary program:
(may intuitively still change during the trip)
We meet in each case, in our house and yard in Praitori, in order to start then together into the respective day. If necessary, or depending on the day's route, we can also pick you up (we discuss this individually). In a minibus we will then consciously and with much joy make our way to the various places of power on the island, which Wolfgang and I have found on our personal excursions and will exclusively show to the participants during our ritual time.
Day – Arrival: You land, settle in and welcome the "new world".
Day – Opening and Element Earth: First meeting with the circle of participants, first "getting to know" and exchanging as well as a ritual to open ourselves and the space for our togetherness. In the second part we dedicate ourselves to the element "earth": we walk mindfully and with all our senses open through the gardens of life, meditate with the trees and take Mother Earth into our midst.
Day – Water: A day by the sea to encounter the primordial feminine element of water. We meditate on the beach, flowing and dancing with the waves.
Day – Break: A day for you, to let go and digest …
Day- Air: We look at the world from above, meditate with the wind, let it touch and cleanse us.
Day – Ether and Farewell: We open ourselves to the soul worlds, the sisters of light in this world and the beyond, get in touch on the heart and soul level. In the second part we "close" our space together and say goodbye to our common being, the elements and everything else with a ritual.
Day – Break: A day for you, to let go and get-back-on-the-way … or also for what is still missing …
Day – Get-on-the-way: You prepare yourself, pack your seven things and set off for home – touched, cleansed, clarified, connected, liberated and somehow completely new you can now return to your everyday life.
And the fire accompanies us every day in the form of the wonderful, unusually bright shining Cypriot sun. (Note: the risk of fire is high, so we do not use open fire).
Organizational
Your arrival and departure
You have to book the flight there and back yourself, as well as the transfer or the rental car to your hotel (maybe we can also pick you up, please contact me).
Depending on where you live, it makes sense to book a rental car with which you can come to us in Praitori, i.e. to the starting point of the joint excursions. Possibly, and depending on the planned day tour, we can also pick you up – we will talk about this when you have decided for this trip.
I like to search and book my flights via google flights (destination airport: ideally Paphos, Larnaka is further away, but also works).
Your accommodation
Please book yourself. If you want to live in the mountains like us, then our recommendation is to rent in Arsos. Depending on what needs / demands you have, there are for example: Cornaro House (the participants of the 1st trip felt very comfortable here) or Arsorama. You can find more accommodations e.g. at airbnb.
Arsos is a small, lively place, located about 5 kilometers from Praitori, our village. There you will also find restaurants and a small store.
Of course you can also stay down by the sea or book any other hotel you like.
Your or rather our catering
Our daily meals consist of fresh seasonal fruits and vegetables from local farmers. In the evening we will have dinner in one of the surrounding Cypriot pub restaurants, depending on the wishes of the participants. Otherwise please take care of it yourself.
Cost
Seminar fee: 888 € – early bird discount until 21.12.21: 777 €.
This includes the tour guide, daily meals with fresh seasonal fruits / vegetables, drinks and transportation to the respective energy places.
Dinner we take depending upon desire of the participants together in one of the surrounding pub restaurants; thereby each carries its costs (usually that is approx. 15 €, all inclusive).
Who is "We"?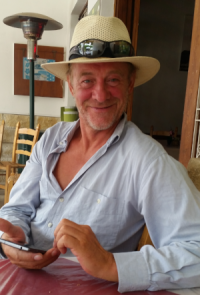 Wolfgang, Cypriot called "Lykos", the man at my side, lives in Cyprus since 2014 and is a real connoisseur of special places. He drives, takes care of, watches over and protects while we can relax and enjoy the elements …
Sabine: You probably know her – if not, you can find more about her here …
Formalities – numbers, data, facts …
Payment methods:
pon booking, a deposit of 40% of the tour price is due within 7 days. Only then is the place bindingly reserved. The remaining payment is due at least 30 days before the start of the trip. In case of short-term booking (less than 30 days before the start of the tour) the entire tour price is due immediately.
Bank details:
Recipient: Spiritual Heights Ltd. (my Cypriot company)
IBAN LT81 3500 0100 1452 5392
Swift code: EVIULT2VXXX
Bank code: 35000
Bank name: "Paysera LT", UAB
Bank address: Pilaitės pr. 16, LT-04352, Vilnius, Lithuania
Travel cancellation and international health insurance
We recommend that you take out travel cancellation insurance. We, as a course provider, do not cover cancellations on the part of clients. We also recommend that you take out health insurance abroad. Please contact your German health insurance company to clarify the insurance coverage abroad or take out an international health insurance for the travel period. We as a course provider are not liable for this.
Note: If you wish, you can contact Ralf Messer, himself a Reiki Master and cooperation partner of ProReiki – der Berufsverband e.V.. He recommends this foreign travel health insurance and travel cancellation insurance with Hanse Merkur.
Cancellation fees (course fee)
b) The following cancellation fees are due in case of cancellation of the trip by the customer:
until 30. day before departure 10 %
from 29th to 7th day before departure 20 %.
from the 6th day until the day of arrival or in case of cancellation after the start of the trip 30 % of the course fee.
All other cancellation fees of the tour operators, airlines, accommodations, etc. that you have booked remain unaffected, i.e. we as course provider are not liable for them.
You have decided? Then you're ready to go …